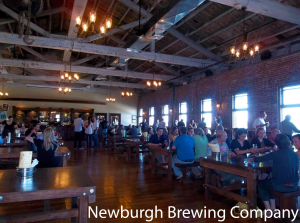 "When the The Little Beer Bus first started coming to Keegan Ales, it was an immediate success. Besides introducing our brewery and beers to new groups of beer lovers one bus-load at a time, we've been able to meet people who have been fans of our hard work but have never had the opportunity to come see where we work.  From our point of view, it's always great to meet new people who are anxious to talk about what we do every day.
In addition to visiting Keegan Ales, The Hudson Valley Beer Trail is an opportunity to learn about how the American craft beer culture is growing and taking root in the Northeast.   New York is now home to over 70 breweries (although most of our favorites are right here in the Hudson Valley) and many are much more than our competitiors; they're our drinking buddies and friends.
Partnering with Hudson Valley Beer Trail has been a great experience for Keegan Ales.  Introducing ourselves to a different group is always a good thing for business, but in truth, it's fun…hopefully as much for you as it is for us"!
Tommy Keegan
PLEASE PLEASE PLEASE DON'T DRINK AND DRIVE! The Hudson Valley Beers are acloholic and the roads between the breweries can be windy and dangerous.  Call us and let The Little Beer Bus, Hudson Valley Brewery and Distillery Tours drive you and your friends and/or group.  Have fun while being safe on our Hudson Valley Beer Tours.