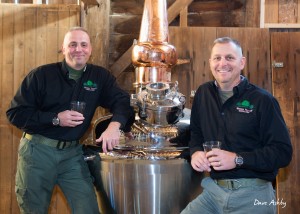 Thomas Yozzo and Chris Moyer became fraternity brothers in 1990 at Bloomsburg University.  Over the years the two and their families often visited and vacationed together, and invariably they discussed opening a business when Thomas retired from law enforcement.  Over a campfire in 2009 Thomas suggested an audacious idea, start a distillery.  The two immediately started putting the business together and in July 2013 the two families purchased a small farm and apple orchard in Clermont, NY and named it Spirits Grove Farm.  
Located on Albany Post Road, travelers between New York City and Albany have passed this farm since colonial times.  Once a part of the Clermont estate, the distillery and tasting room reside in a 100 year old timber frame barn renovated by the two families.  Visitors can expect to meet the owners, see how craft spirits are mad,e and taste unique handcrafted spirits originating from local farms.  They are currently offering Vodka and Applejack made from local apples and White Whiskey based on locally harvested corn.      
*Hudson Valley Distillers is veteran owned and operated*
Our website: www.hudsonvalleydistillers
FB: www.facebook.com/HVDistillers
We were also recently on the cover of Hudson valley Mercantile:  http://issuu.com/hudsonvalleymercantile/docs/hv-merc-0314-issuu/1?e=1920931%2F6924062
We are anticipating our opening either the second or third weekend in April.
I look forward to seeing you at the distillery!