About HVBT
The Hudson Valley Beer Trail Story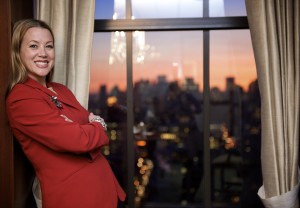 The Hudson Valley Beer Trail was founded and created in 2011 by Tania P. Dougherty, Certified Travel Counselor and Certified Meeting Professional. She is a native of this beautiful historic Hudson Valley region of New York State and grew up in Cornwall-on-Hudson.
Tania has over 18 years of experience in the travel industry as well as a strong history and background in planning special events, corporate meetings and outings for some of Wall Street's most prominent firms and top executives. She now operates her businesses full-time and is an active member of the Hudson Valley Food and Beverage Alliance.
With her drive and keen sense in the travel and tourism markets, she has developed companies and invested in technology and innovative websites that focus on creative and unique mass branding strategies for Hudson Valley Wine Country and Hudson Valley Beer Country to drive tourism to our area from across the globe.  Her main focus is showing the world what we have to offer while educating consumers on the rich history in our region just 1.5 hours north of New York City, thus the creation of Hudson Valley Beer Trail.  In 2013, Hudson valley Beer trail was named one of the top and 7 Beer Trails in America!
The Little Beer Bus, Hudson Valley Brewery and Distillery Tours is a spin off of The Little Wine Bus Inc., Hudson Valley Wine Tours and Events, and the newest addition is The Little Beach Bus, New York and New Jersey Shore Beach Tours and Parties.  All of her Beer, Wine and Beach tours specialize in fun and extremely creative day tours, special events, corporate events, luxury and high-end travel experiences, team building, birthday parties, bachelorette/bachelor parties, anniversary and engagement parties, beer/wine dinner parties, wedding showers, rehearsal dinners, family reunions, and more.
Wanting to share her deep passion for unique adventure travel and a good "Brewski", Tania created the ultimate niche, The Little Beer Bus, Hudson Valley Brewery and Distillery Tours to let others experience the charming, yet fun and hip family-owned breweries and distilleries along this picturesque Hudson Valley Beer Trail.  The Little Wine Bus follows The Hudson Valley Wine Trail or The Shawangunk Wine Trail.
Tania earned a Bachelor's of Science degree in Management and Leadership Studies from New York University. She graduated from the Institute of Certified Travel Agents where she received her Certified Travel Counselor designation and soon after received her Certified Meeting Professional certification from the Convention Industry Council.
Since starting The Little Wine Bus, Tania has received recognition from multiple institutions. Most recently, The Little Wine Bus won Hudson Valley Magazine's "Best Way To Tour The Vineyards" for 2012 and won in 2008 as well. In 2012, she was featured in The Wall Street Journal regarding her corporate event planning expertise in the wine touring industry thus creating jobs in such a down economy. She has received recognition from multiple institutions and is a repeat speaker at New York University as well St. Johns University's School of Hospitality.  She has also been featured in USA Today as well as numerous magazines such as Biz Bash, The Village Voice, Hudson Valley Magazine, Meetings and Conventions, F+ B Therapy and more.  Over the years, growth with The Little Wine Bus included a stellar business partnership with Expedia.com and both The Little Wine Bus and The Little Beer Bus are now some of the largest and most popular tour options within New York City, the surrounding states, and tourists from around the world join her tours each week.
Philanthropy: The little Wine Bus and The Little Beer Bus donates approx. $2000.00 in free tickets each year to various local charities and silent auctions such as cancer centers, schools, area hospitals. Tania has also donated to victims of Hurricane Sandy who have been guests on her buses and have lost everything in the tragedy.
Our Active and Professional Memberships Include:
International Airlines Travel Agent Network (I.A.T.A.N.)
The American Society of Travel Agents (A.S.T.A.)
Meeting Professionals International (M.P.I.)
The Shawangunk Wine Trail Association
** We operate as a full-service Travel Agency and Tour Operator**
Our Tours
The Little Wine Bus
The Little Beach Bus
The Little Beer Bus